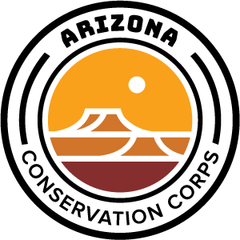 2020 DREAM Job Fair Sessions
Arizona Conservation Corps (AZCC) offers opportunities throughout the full calendar year from offices located in the White Mountains, Flagstaff, and Tucson, AZ. AZCC operates a continuum of programs from community-based initiatives for younger teens to residential camping crews for high school and college-aged individuals along with leadership programs for college graduates and job training programs specifically for current era veterans. Programs are operated in partnership with public land management agencies and AmeriCorps.
Corpsmembers earn a living allowance while learning valuable work and life skills. Innately, through the program structure, AZCC places a strong focus on leadership development and environmental stewardship. AZCC's strengths lie not only in its service project accomplishments, but also in its ability to train a viable future work force to the region by offering exceptional educational and engaging opportunities to participants.